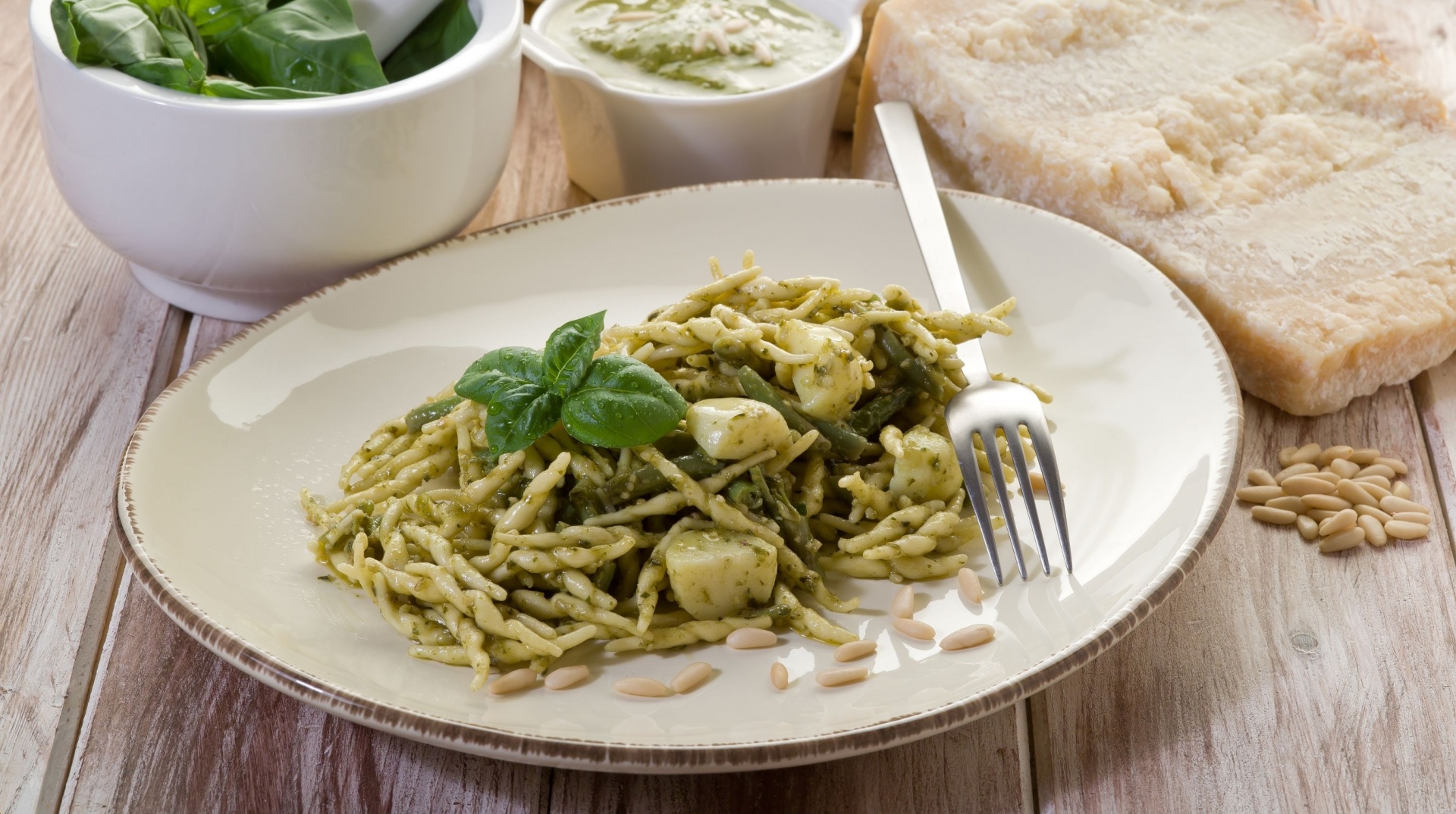 Belmorso Trofie
Categories: Regional shapes
Trofie is a traditional Ligurian pasta with thick twisted solid strands that are chewy in texture. Trofie pasta is traditionally served with pesto; its twisted shape allows the pesto to effectively stick to the pasta for a super flavourful pasta bite.
The first ever made trofie originated in Sori, a town close to Genova. While it's not certain, it seems that the name trofie might have come from the word strufuggia, which in the local dialect means to rub. And rubbing is exactly the movement made by the hand and nowadays also by machines, to obtain the trofie pasta shape.
If you wondering how to cook trofie pasta, adding Basil Pesto is the classic way but not the only one. 
Here are a few recipes ideas from our blog:
1. Trofie Pasta with crunchy zucchini and bacon
2. Trofie pasta bake with sausages
3. Trofie pasta with cauliflower and asiago cheese
Belmorso Trofie is also delicious with meat sauces and ragù.
Trofie Pasta, like all Belmorso Pasta, is made following the slow-drying process. This is an artisan method that allows pasta to dry for several hours and at low temperatures. It allows the pasta to retain the colour, scent, and taste of the wheat. The result is a pasta that tastes good on its own and has a beautiful rough and aldente texture after cooking.
STOCK UP ON TROFIE PASTA NOW, and while you do that don't forget to add other regional pasta shapes to you cart, such as Orecchiette and Strozzapreti.
PS: If you like trofie pasta, you should also try Wholemeal Trofie & Trofie Tricolori.
How to use:
Bring a large saucepan of water to the boil, add salt and the pasta. Cook the pasta, drain and dress with one of our delicious sauces or pesto's. Cooking time: 12-15 mins.

Durum wheat semolina pasta
Ingredients:
Durum WHEAT semolina, water.
For allergens see ingredients in capital letters. May contain mustard and soy.

Packaging:
Plastic Bag
Nutrition declararion:
Typical values per 100g
Energy   1487 KJ/356 Kcal
Fat 1,5g
of which saturates 0,3g
Carbohydrate 72,1g
of which sugars 3,3g
Fibre 2,7g
Protein 12,1g
Salt 0,1g
Storage conditions:
Store in a cool and dry place
Weight:
500g
slow-drying artisanal processing

Country of grain cultivation: Italy
Milling country: Italy

Exclusively produced in Italy for: TASTE WITH GUSTO IMPORT Ltd. Unit 2, Santry Hall Industrial Estate, D09 Y2F7, Dublin 9.
Comments and reviews for Belmorso Trofie
Share your opinion: write your review!
People who likes Belmorso Trofie, also buy:
Browse delicious artisan foods
---
FREE SHIPPING for orders over 50 €
---
---