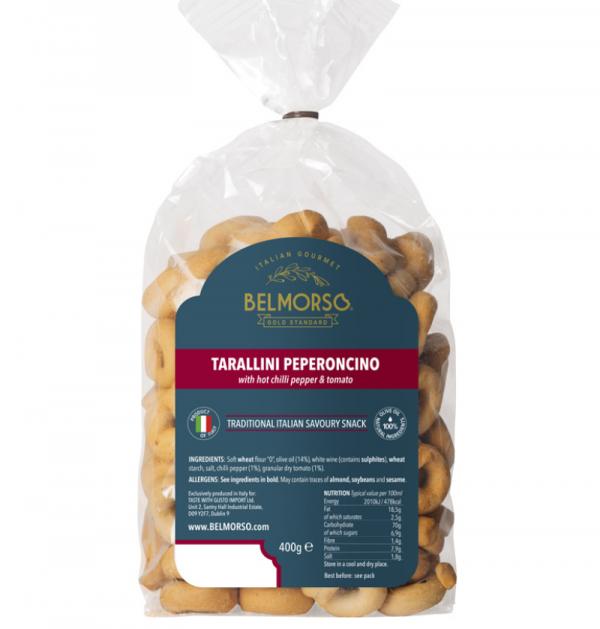 Belmorso Tarallini Peperoncino with chilli and tomato
Categories: Baked Products , The Hot Products
Belmorso Tarallini al peperoncino with chilli and tomato are a tasty, crunchy and versatile snack food full of flavour. A healthy alternative to bread or bread sticks they are created with the finest ingredients - you will love these chilli infused Tarallini Peperoncino!





How to use:
A quick snack with cheese and hummus
As croutons in soups and salads
A party finger food with a dips selection
An accompaniment to aperitifs, cocktails, beer or wine
A children's lunch box filler - (the wine has completely evaporated in the process; it is first boiled then baked)


Ingredients:
Soft wheat flour "0", olive oil (14%), white wine (contains sulphites), wheat starch, salt, chilli pepper (1%), granular dry tomato (1%). ALLERGENS: May contain traces of almond, soybeans and sesame.
Packaging:
400g Bag
Comments and reviews for Belmorso Tarallini Peperoncino with chilli and tomato
Be the first to write a review
People who likes Belmorso Tarallini Peperoncino with chilli and tomato, also buy:
Browse delicious artisan foods
---
FREE SHIPPING for orders over 50 €
---
---