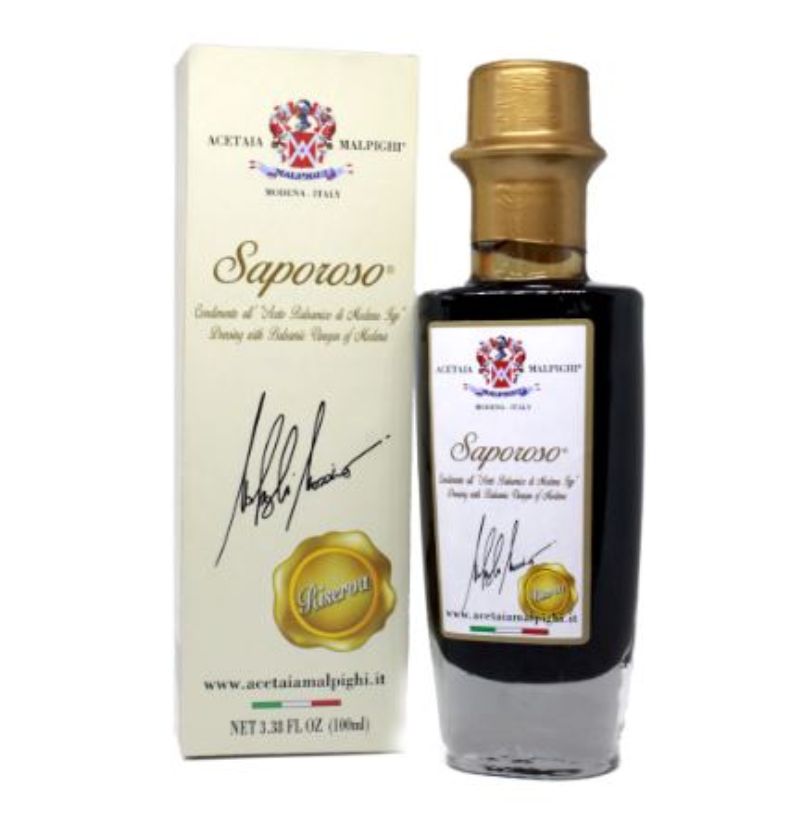 Saporoso Reserve - Condiment with balsamic vinegar of Modena - 8 yrs old 200 ml
Categories: Balsamic Vinegars
Condiment with "Balsamic Vinegar of Modena IGP" obtained from just cooked grape must from Trebbiano and Lambrusco grapes. Aged over 8 years in precious Oak barrels, it has a sweet and sour, intense yet harmonic taste, and a high density. Density: 1,34. Ingredients: 100% cooked grape must.
This comes in a 200 ml bottle but the 100 ml version is also available.
How to use:
Saporoso Riserva is suitable for all types of vegetables (cooked, fresh and grilled), on roast meat and game.
Dressing with balsamic vinegar of Modena
Ingredients:
Cooked grape must, balsamic vinegar of Modena IGP (5%) (cooked grape must, wine vinegar), wine vinegar, natural pomegranate flavour. Contains SULPHYTES
Packaging:
Transparent Glass Bottle with an individual box. (plastic dropper included)
Nutrition declararion:
Typical values per 100ml
Energy   1697 KJ/399 Kcal
Fat <0,1g of which saturates <0,01g
Carbohydrate 98,6g of which sugars 93,5g
Protein 1,2g
Salt 0,088g
Produced by: Acetaia Malpighi, via Emilia est 1525/1527 Modena Italy.
Comments and reviews for Saporoso Reserve - Condiment with balsamic vinegar of Modena - 8 yrs old 200 ml
Be the first to write a review
Browse delicious artisan foods
---
FREE SHIPPING for orders over 50 €
---
---