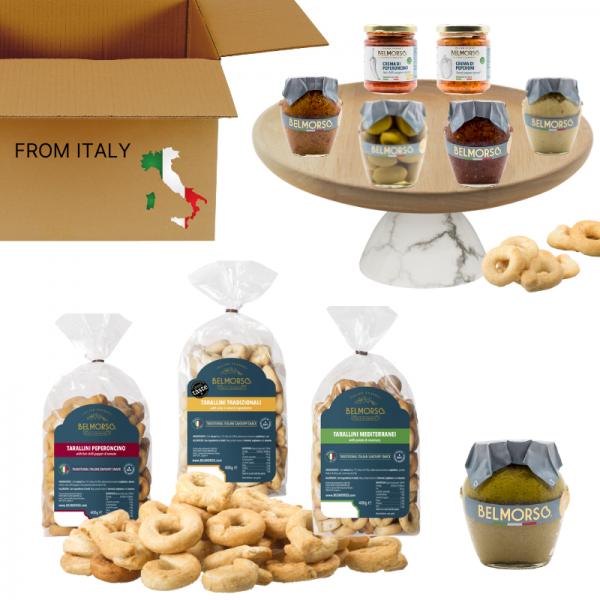 TARALLI Foodie Box
Categories: Special Bundles
Here it is.. the New TARALLI Foodie Box.
We are launching this in celebration of Taralli Day, on the 25th January. 
It's a great weekend treat, or you can save it for a special occasion.
The TARALLI Foodie box also makes a great gift for a dinner host, or a foodie friend.
What is it?
It's full of tasty savoury snacks from Puglia, including 3 packs of taralli, each with a different flavour.
Who is it for?
It's for you if you love taralli.
You should get it if you enjoy savoury snacks.
You, if you are into aperitivo hour. 
And it's a great gift for your foodie friend.
What's in it?
The TARALLI Foodie box includes 10 flavourful snacky products. Here's the full list.
- 3 packs of taralli - Traditional, Chilli, and Mediterranean
- Cannonata
- Artichoke paté
- Sundried tomato paté
- Sweet peppers spread
- Black olive tapenade
- Green olives tapenade
- Bella de Cerignola olives
How to use it?
1. Open the box, take everything out, open the taralli, lay them on a tray, get some teaspoons and dip bowls, fill them with the various spreads, and you are done. Of course, don't forget to make yourself a drink. What's it going to be - Aperol spritz or Prosecco?
2. Same as step 1, but instead of laying everything on the table, place it into a picnic basket and take it with you to the park. Let Sunday aperitivo picnics be the new trend. We are starting it here!
3. Use any leftovers in your cooking. Nothing is going to waste! You can make pasta and main courses with the taralli and dips. And you can even make desserts with the traditional tarallini. 
If you like it, get it now while all the items are available.
Please refer to the separate products pages
Comments and reviews for TARALLI Foodie Box
Be the first to write a review
Browse delicious artisan foods
---
FREE SHIPPING for orders over 50 €
---
---