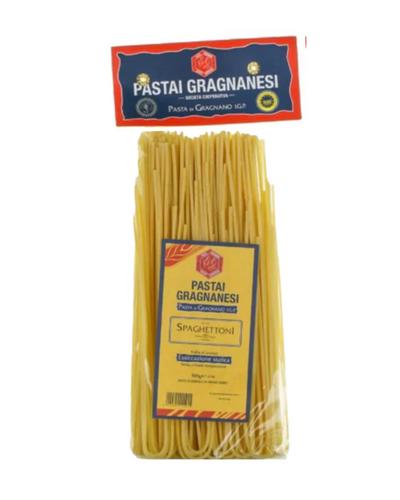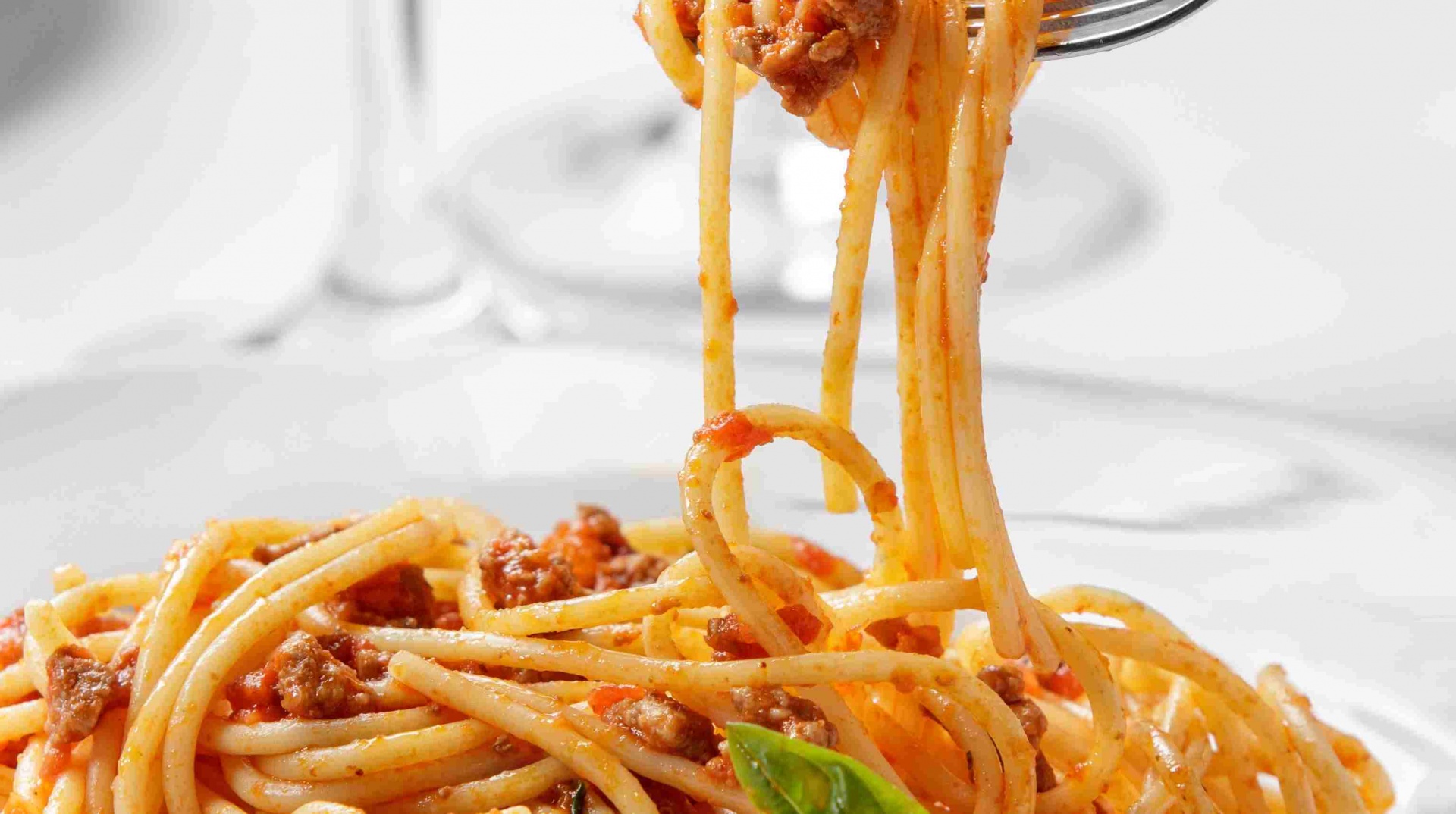 Spaghettoni
Categories: Pasta , Gragnano PGO
Spaghettoni is long in shape, similar to Spaghetti but with greater thickness. This pasta cooks well and stays 'al dente' longer; whilst the rough texture allows for the sauce to stick to the pasta effectively.
If you love spaghetti but also appreciate thicker shapes like bavette and fettucce, you'll love this one.
Wondering what's the difference between spaghettoni vs spaghetti? It's simply the thickness. The first are about 2.4 mm thich while spaghetti are usually 2 mm wide.
Don't confuse them with bucatini. Spaghettoni vs bucatini - while thicker than spaghetti, spaghettoni pasta doesn't compare to bucatini. The latter are much thicker and also rounder. Because they are so thick, 3mm wide, that allows for the hole in the centre.
Now that you know what is spaghettoni, let's look at how to cook with them.
Recipe Ideas with Spaghettoni
1. Spaghettoni with our Pronto Spaghetti sundried tomato pesto
2. Spaghettoni cacio e pepe
3. Spaghettoni with garlic, extra virgin olive oil, prawns, chilli and parmesan
Go ahead, and add a pack to your cart. You'll love to cook with a different shape that tastes much more artisan and authentic Italian.
For those who want to know where to buy spaghettoni in person, you can come shop at one of our weekend markets. Click Find Us to learn more.
How to use:
Bring a large saucepan of water to the boil, add salt and the pasta. Cook the pasta, drain and dress with one of our delicious sauces or pesto's. Cooking time: 12-15 mins.

Durum wheat semolina pasta
Ingredients:
Durum WHEAT semolina, water.
For allergens see ingredients in capital letters. May contain mustard and soy.

Packaging:
Plastic Bag
Nutrition declararion:
Average values per 100g
Energy   1531 KJ/361 Kcal
Fat 1,2g
of which saturates 0,2g
Carbohydrate 73,0g
of which sugars 4,0g
Fibre 3,1g
Protein 13,0g
Salt 0g
Storage conditions:
Store in a cool and dry place.
Weight:
500g
Country of grain cultivation: Italy
Milling country: Italy

Product in Italy by: Pastai gragnanesi Società cooperativa-Via Giovanni Della Rocca 20-80054 Gragnano (Napoli)-Italy.
Comments and reviews for Spaghettoni
Be the first to write a review
Browse delicious artisan foods
---
FREE SHIPPING for orders over 50 €
---
---