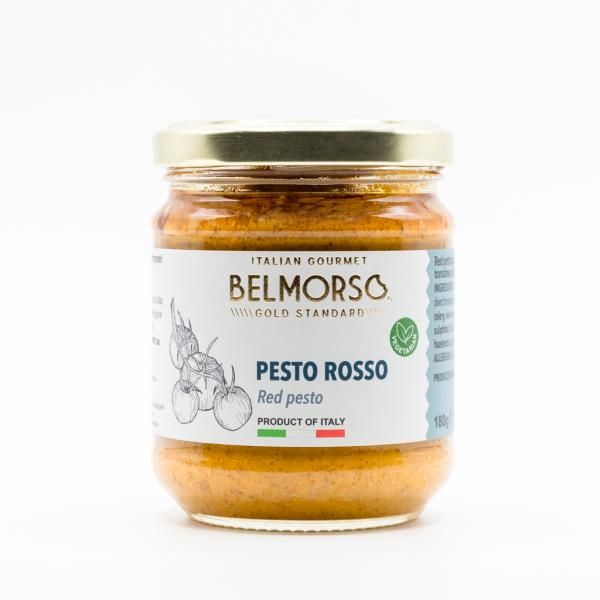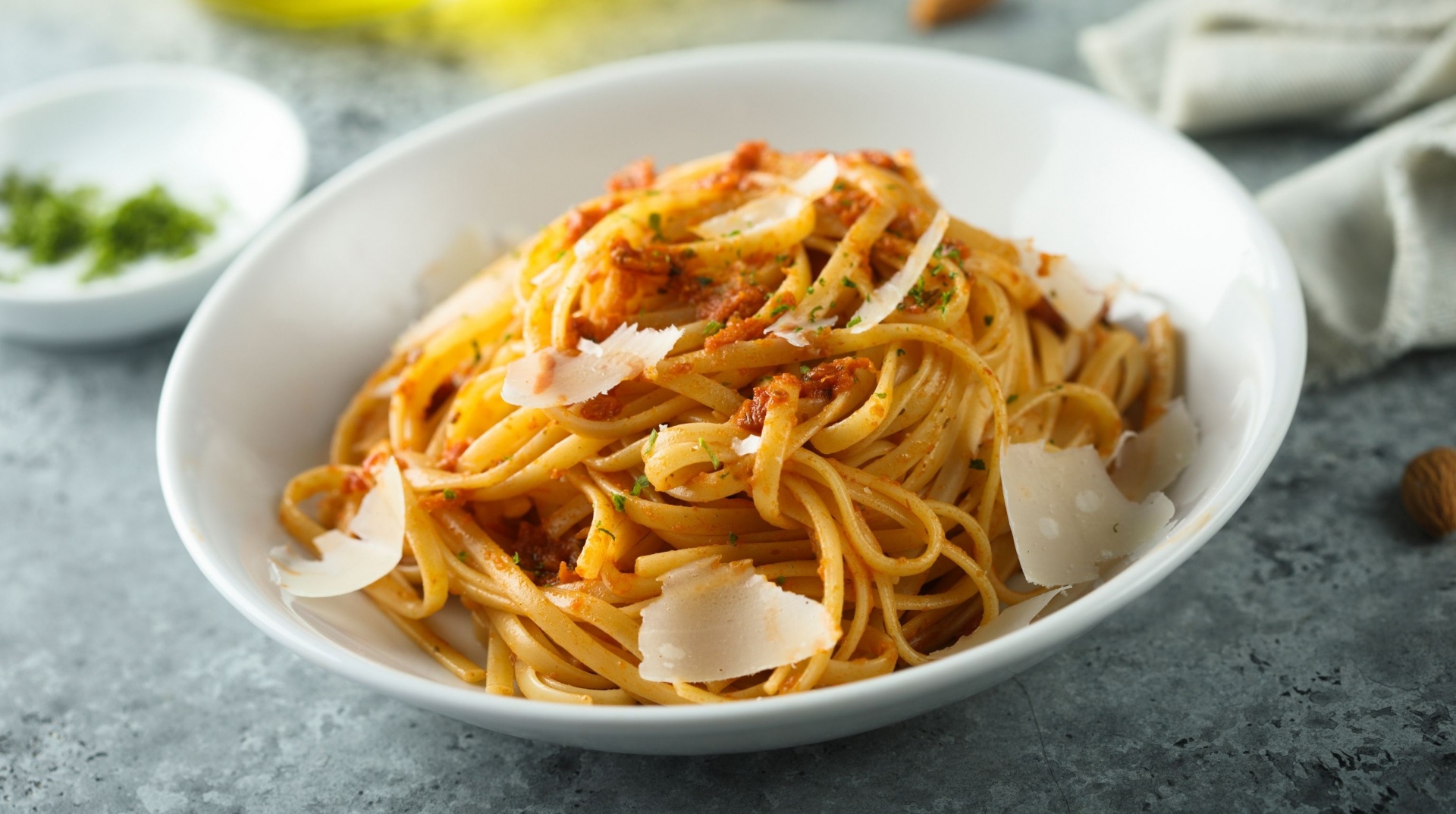 Belmorso Red Pesto
Categories: Dips and Spreads , Pestos
Red pesto is a nice alternative to the classic green pesto. It's sweet, full of tomato flavour but with a subtle nutty twist.
For a healthy and nutritious quick and easy meal we suggest you pair this tomato pesto with Belmorso Wholemeal Trofie or Orecchiette Pasta.
Buy it now and you'll have an extra pasta sauce to choose from.
What is red pesto made from?
Red pesto, or pesto rosso, is essentially made with tomatoes, usually sun dried tomatoes.
It might include other veggies like carrots and celery, as well as lots of basil and a variety of nuts.
Our Red Pesto is a great vegan pesto for anyone who doesn't eat dairy, as it has no cheese.
How do you eat red pesto?
1. Stir it in into pasta for a quick and delicious pasta dinner
2. Spread it on toast or any type of bread or cracker
3. Use it as a dip with antipasti
4. Stuff chicken with it
5. Make delicious pasta bakes
6. Spread red pesto sauce onto pizza and top it with cheese
Do you heat red pesto?
You can used red pesto out of the jar without heating it, or you can add it to your pasta with some cooking water and heat it up in a pot.
How to use:
Heat sauce slowly in a saucepan, mix with pasta and serve.

Also great as:
A sauce for meat or fish dishes.
A spread on tarallini, bruschetta or crostini.
A spread on crackers and breads.
A dip for party finger food.
A sandwich filler.
An ingredient in salad dressings, stews and soups; it is fantastic with scrambled eggs; delicious if mixed with some fresh ricotta cheese and ideal to stuff ravioli or vol-au-vents.
Seasoning with tomatoes and basil
Ingredients:
Italian rehydrated dried tomatoes (35%), olive oil, carrots, CELERY, wine vinegar (contains SULPHITES), basil (3.5%), PEANUTS, HAZELNUTS, sugar, salt, pine nuts, garlic.
Allergens: see ingredients in capitla letters.

Packaging:
Glass Jar
Nutrition declararion:
Typical values per 100g
Energy 1457 KJ/ 352 Kcal
Fat 31,1g
of which saturates 4,9g
Carbohydrate 12,9g
of which sugars 9,6g
Fibre 2,9g
Protein 3,8g
Salt 1,9g
Storage conditions:
Store in a cool and dry place. Once opened store refrigerated below 4°C and consume within 5 days.
Weight:
180g
Produced without preservatives.

Exclusively produced in Italy for: TASTE WITH GUSTO IMPORT Ltd. Unit 2, Santry Hall Industrial Estate, D09 Y2F7, Dublin 9
Comments and reviews for Belmorso Red Pesto
Be the first to write a review
Browse delicious artisan foods
---
FREE SHIPPING for orders over 50 €
---
---