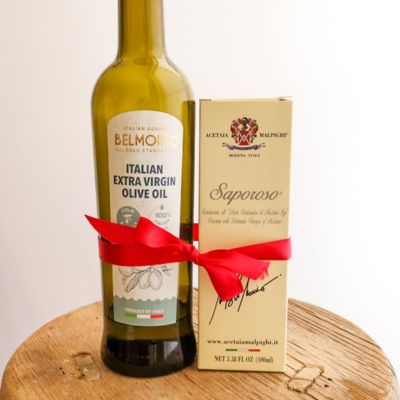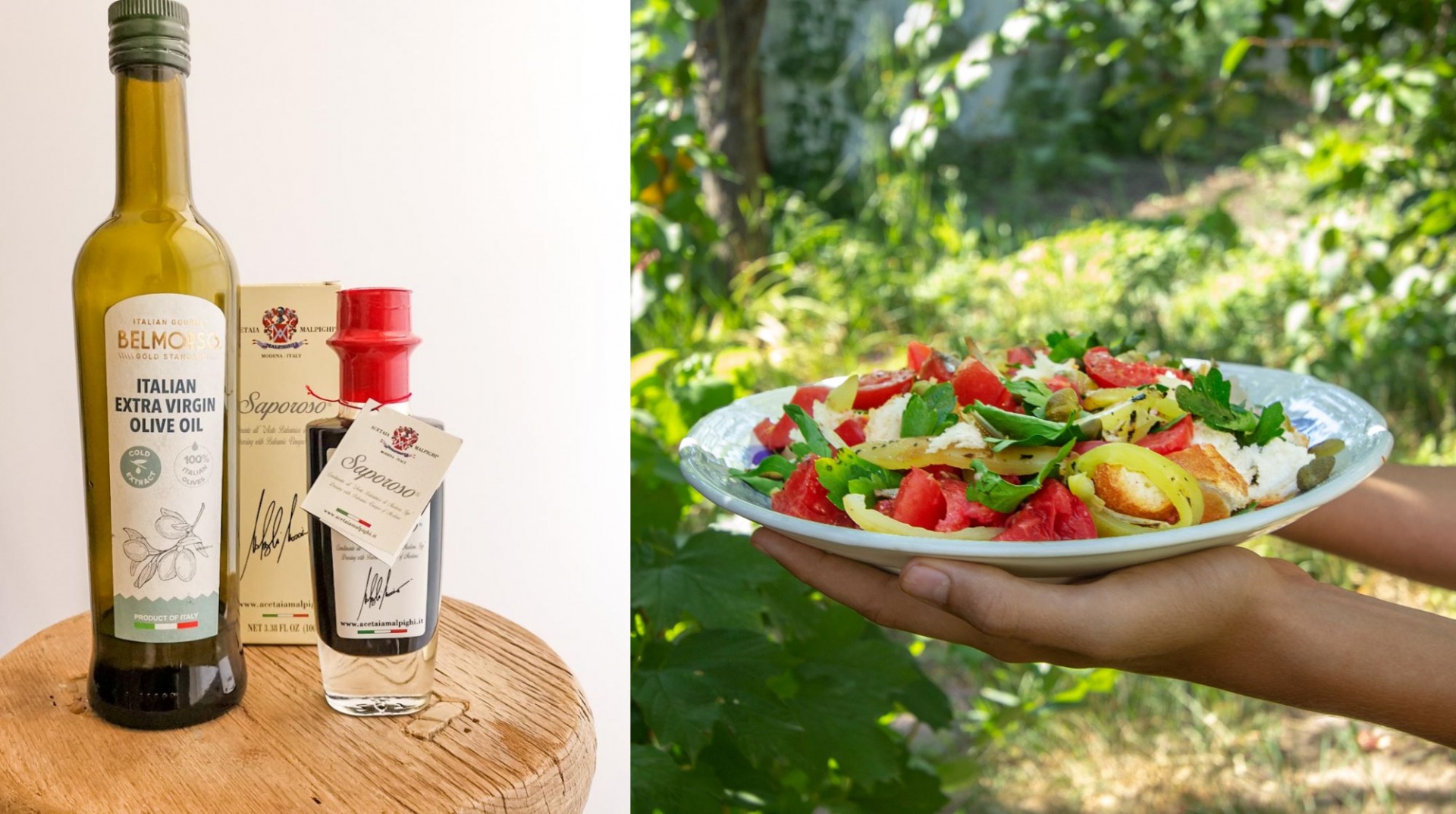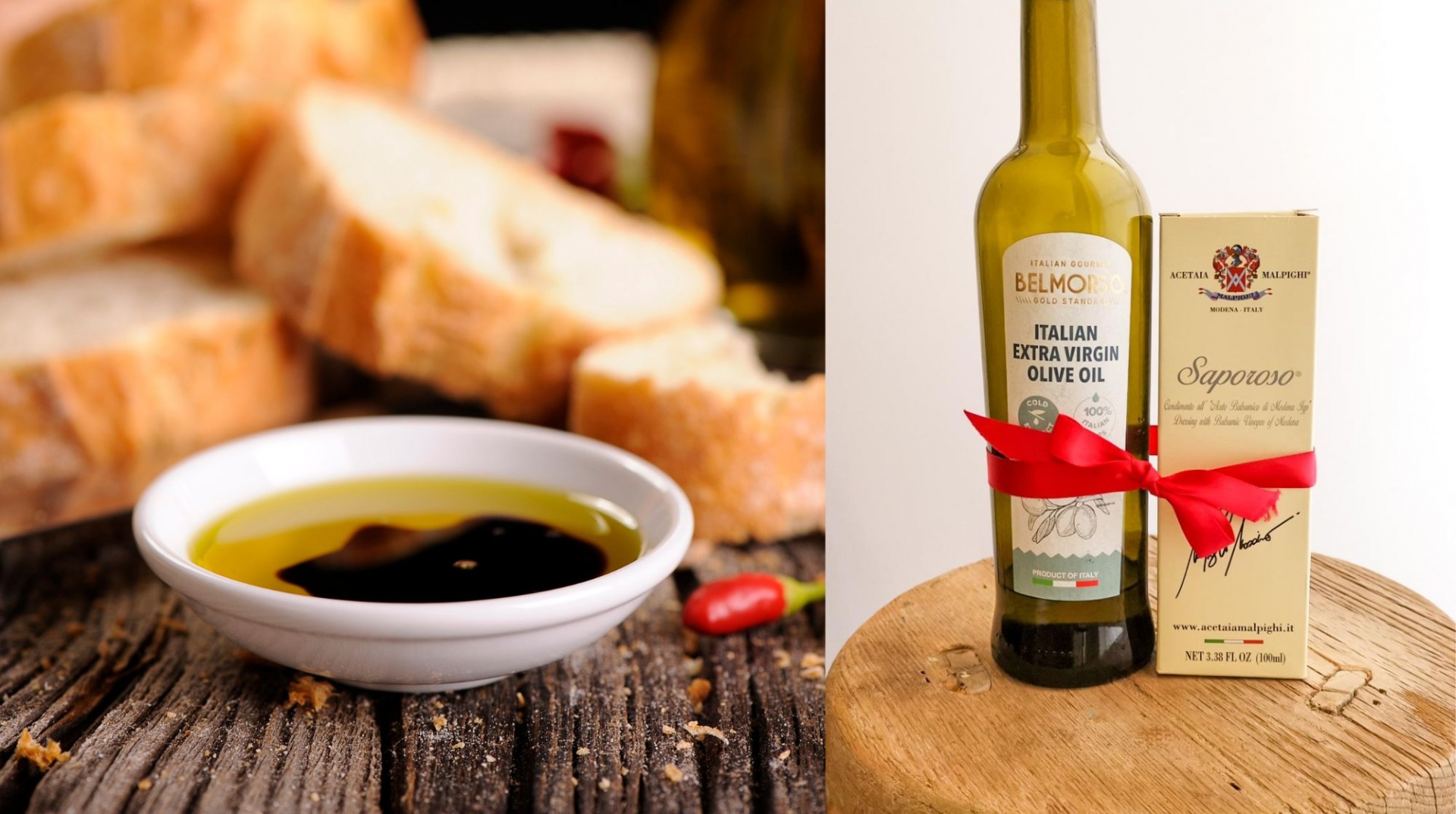 Italian Olive Oil and Balsamic Gift Set
Categories: Special Bundles
This Italian olive oil and balsamic vinegar gift set makes the perfect gift for friends and family.
It features our 2 top bestsellers, Belmorso Extra Virgin Olive Oil in 500 ml, and the Saporoso Balsamic Vinegar of Modena 6 years old.
About Belmorso EVOO
Belmorso Extra Virgin Olive Oil is our all-year-round bestseller EVOO.
It's great for everyday use, if you like cooking and baking with extra virgin olive oil.
It's also perfect if you are looking for the best olive oil to drink for health purposes.
With its distinctive green-golden colour and delicious aroma, Belmorso EVOO is sure to give a strong Italian twist to even the simplest of dishes. It holds a pulp-like consistency with a fruity-floral flavour and a slightly peppery aftertaste. That peppery taste is a sign of a high quality olive oil.
This delicious cold-pressed Extra Virgin Olive Oil is created from the finest antioxidant-rich Coratina olives which makes it a super health tonic.
Here's what others say about it.
Alessio says: "One of the best olive oils I ever tasted."
Janina says: "Loved it! Used it for making my first spaghetti aglio, olio e peperoncino!"
About Malpighi Saporoso
Saporoso is a high quality traditional condiment with balsamic vinegar of Modena. Aged for six years in barrels of oak wood it is obtained from the juice of the Lambrusco Graspaross, and Trebbiano Modenese grapes. The density is syrupy, the colour is deep brown, the aroma is intense, the taste is sour with shades of wildflowers, grass and mustard.
How to use it:
Suitable to use on all types of food; especially in salad dressing, on omelettes, cheese, desserts, ice cream and fresh fruits.
It is delicious on fish and crustaceans, with fresh or cooked vegetables and on boiled or roasted meats including game.
Here's what others say about it.
Elisabeth says: "Wonderful to get your hands on such a superior product like this !"
Christine says: "Absolutely delicious. Not bitter. Perfect on our salads, and on our strawberries."
As you can see from the above descriptions, with this balsamic and olive oil gift set you'll be making a great impression with your friends, family, host, or whoever you choose to gift this too.
Now that you found the ideal Italian food gift all you have to do is add to cart and purchase it.
If you don't need to gift it right now, you can purchase it and save it for when the occasion comes. Both products have a long shelf life.
Or else make sure to save this page and come back.
Answering Common Questions
1. Can you mix balsamic vinegar with olive oil?
Absolutely yes. When you mix the two you'll obtain something that tastes like anything else. It's fruity, sweet, sharp and perfect for dipping and drizzling. Once you try it you'll be hooked.
2. How much balsamic vinegar to olive oil?
I like to mix one tablespoon balsamic for every 3 tablespoons extra virgin olive oil, but feel free to start with less balsamic and adjust according to your taste.
3. How to make olive oil and balsamic dip?
You simply mix the two, using the above ratio. You can season with salt and pepper and add your favourite herbs. You can even add garlic, sundried tomatoes, chilli, or basil for extra flavour. I suggest you start with just the EVOO and balsamic so you can fully appreciate their taste.
4. Is olive oil and balsamic vinegar healthy?
These two are the healthiest dressing you can add to your salads, buddha bowl, roasted vegetables, bread, fish and meats. There are no added sugars, no nasty ingredients, and they are both high quality artisan Italian products produced in Italy by family owned producers that value their resources, the environment, and Italian traditions.
Buy this delicious authentic Italian food gift now, and you won't regret it.
PS: Getting these two products together saves you over 10%. Enjoy!
Comments and reviews for Italian Olive Oil and Balsamic Gift Set
Be the first to write a review
Browse delicious artisan foods
---
FREE SHIPPING for orders over 50 €
---
---