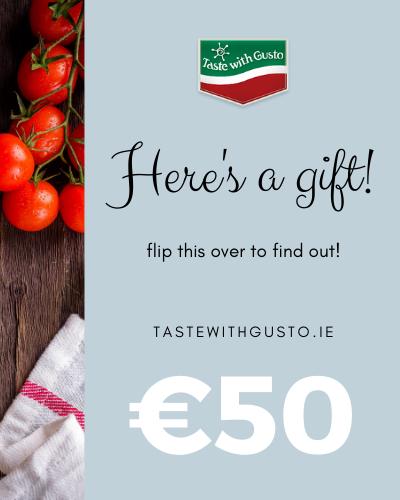 Gift Certificate 50 - Get 10% extra in value.
Categories: Gift Certificates
The Gusto newly designed gift certificates make the perfect gift for many occasions.
The €50 voucher is the middle one, thus perfect to gift to a host together with a bottle of wine or a homemade cake, when you are feeling extra generous.
It also makes a great gift for a friend or family member, and since everyone loves food, you'll never go wrong. Plus, the person will get too choose her favourites. It's a no brainer for you, and the ideal gift for the receiver.
When you gift the Gusto voucher you are sharing your love for Italian cuisine with someone you love. At the same time you are giving that person the chance to experience coming into our market stall, tasting the products, seeing all the variety and choosing according to their taste.
The same experience, although on a different level, applies when the voucher is used online.
Try gifting an experience rather than a product next time, and you will be amazed by the reaction!
Pay €50 and get 10% extra in value.

This voucher is valid in store, in our markets, and online.
When shopping in store and in markets, make sure to present the voucher.
When shopping online on our website, use the code included.
Comments and reviews for Gift Certificate 50 - Get 10% extra in value.
Be the first to write a review
Browse delicious artisan foods
---
FREE SHIPPING for orders over 50 €
---
---