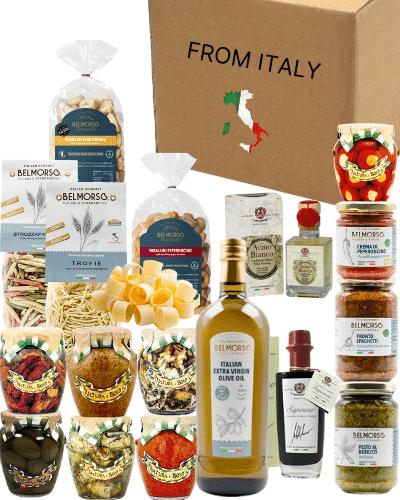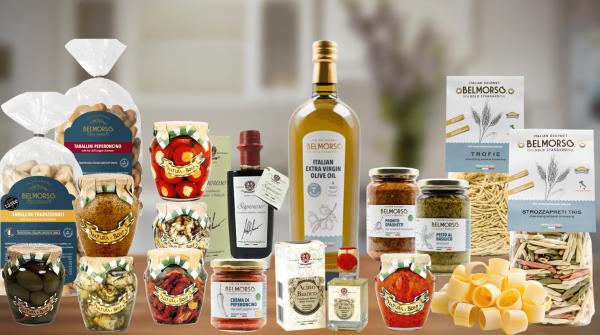 DAID BUNDLE
Categories: Special Bundles
ONLY AVAILABLE UNTIL 17th June

Does your dad really really love Italian food? Then this is the right bundle to please his taste buds, and his eyes too :)

By gifting your dad the DAID bundle you will giving him the chance to taste a very large selection from our Italian product range. And considering that these are all high quality Italian products, your dad will be thrilled about it. With this bundle he can eat and cook Italian for weeks, and even months.

Here's a look into the type of products you get.
1 high quality extra virgin olive oil
2 must-have balsamic vinegars - one dark and one white
3 Italian regional pasta shapes
4 pasta sauces to go with the pasta (these can also be enjoyed with tarallini or as a spread)
a selection of 9 products to enjoy as a snack or aperitivo. These can also be used to make a big antipasti platter.

These are all the products included:

Belmorso Trofie Pasta
Belmorso Extra Virgin Olive Oil 1l
Saporoso Balsamic Vinegar of Modena
Acino Bianco White Condiment
Belmorso Pronto Spaghetti large
Belmorso Basil Pesto large
Belmorso Strozzapreti tris
Belmorso Red pesto
Bella de cerignola olives
Cannonata small
Stuffed chillies with tuna & vegetables
Belmorso Hot chilli peppers spread
Seafood salad
Calamari pasta
Whole grilled artichokes
Sundried tomatoes
Belmorso Tarallini traditional
Belmorso Tarallini chilli
Black olive tapenade

This is truly a feast of authentic Italian goodness that your dad can enjoy on his own, but also when hosting friends.

PS: This bundle also comes with a printed list of 12 recipes, from easier to more dedicated ones, that your dad can make.

And because DAID is our largest bundle, you get a mightly 20% off all the products included for a total saving of around €35.

Moreover, when you purchase this bundle you are entitled to free delivery to Ireland.

Hurry up and purchase it now before the offer ends.
How to use:
Kindly refer to individual products page
Ingredients:
Kindly refer to individual products page
Packaging:
Kindly refer to individual products page
Comments and reviews for DAID BUNDLE
Be the first to write a review
Browse delicious artisan foods
---
FREE SHIPPING for orders over 50 €
---
---