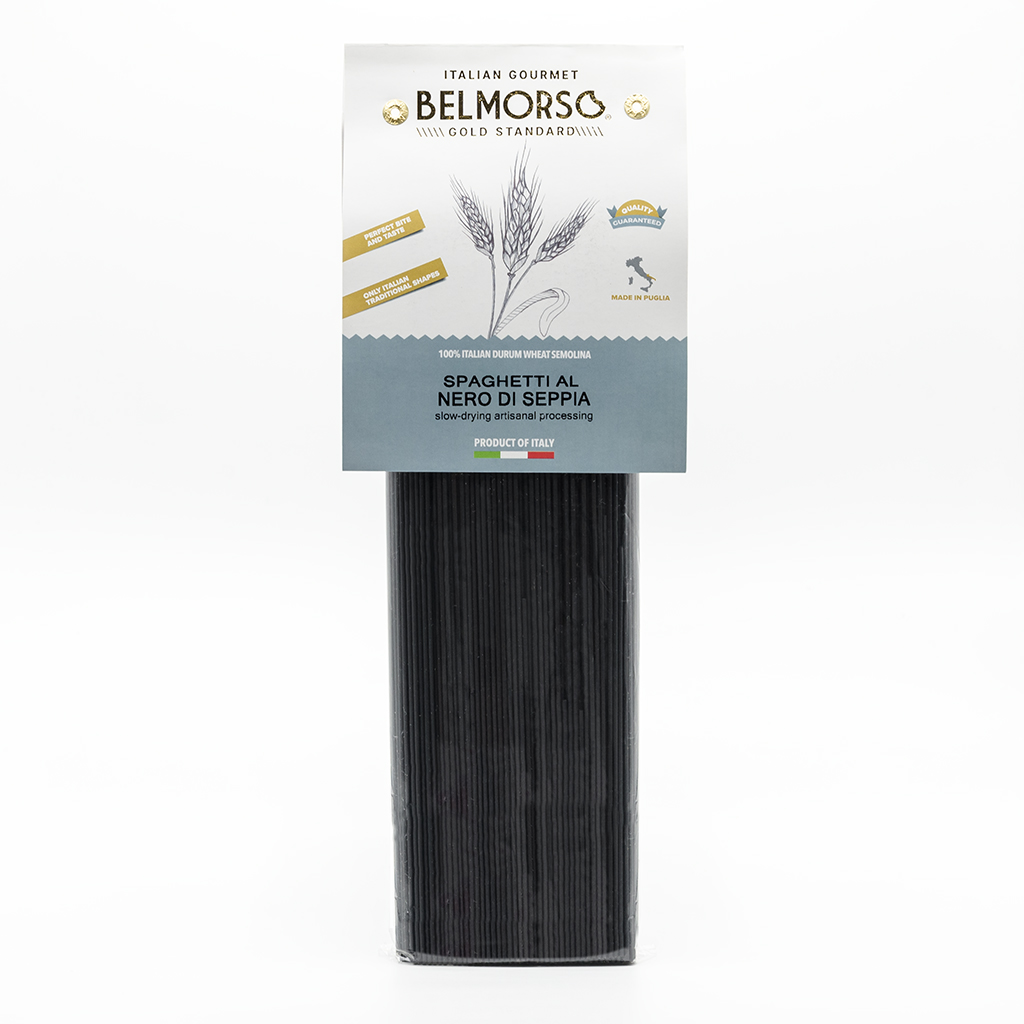 Black Squid Ink Spaghetti
Categories: Pasta
This black spaghetti squid ink pasta is a unique and tasty addition to your pantry. You are going to love these Italian black spaghetti if you enjoy seafood and fish and want to cook more fish pasta at home.
• It offers you an elegant looking and tasting pasta that complements most seafood and fish-based sauces.
• It doesn't taste fishy at all, but it rather gives the final pasta dish a salty seaside taste.
• It's also rich in antioxidants and iron.
• Pairing squid ink spaghetti with a squid ink sauce provides a good amount of dopamine which is a chemical known for increasing energy, focus, happy feelings, and thus great for our brain health.
• Black ink spaghetti pasta is made with only 3 ingredients, all high quality: wheat semolina, water and squid ink.
All our artisan pasta is unique in texture and taste, because it's made following old traditional methods that give it a rustic authentic rough feel and make the sauce stick to it beautifully.
Here are a few ideas on how to serve black squid ink pasta:
1. Serve it with a simple yet iconic squid ink sauce
2. Try our Squid Spaghetti with Swordfish
3. Try a tomato-based fish sauce
4. Make a fishy alternative to the popular Aglio Olio pasta by adding our Seafood Salad jar & using black spaghetti
Ready to be amazed? SHOP SQUID INK PASTA NOW
How to use:
Bring a large saucepan of water to the boil, add salt and the pasta. Cook the pasta, drain and dress with one of our delicious sauces or pestos. Cooking time: 12-15 mins.

Durum wheat semolina pasta with squid ink
Ingredients:
Durum WHEAT semolina (87%), water, SQUID ink 2%.
For allergens see ingredients in capital letters. May contain mustard and soy.
Packaging:
Plastic Bag

Nutrition declararion:
Typical values per 100g
Energy   1458 KJ/349 Kcal
Fat 1,3g
of which saturates 0,3g
Carbohydrate 70,9g
of which sugars 3,1g
Fibre 2,4g
Protein 12,1g
Salt 0,1g
Storage conditions:
Store in a cool and dry place
Weight:
500g
Country of grain cultivation: Italy
Milling country: Italy

Exclusively produced in Italy for: TASTE WITH GUSTO IMPORT Ltd. Unit 2, Santry Hall Industrial Estate, D09 Y2F7, Dublin 9.
Comments and reviews for Black Squid Ink Spaghetti
Be the first to write a review
Browse delicious artisan foods
---
FREE SHIPPING for orders over 50 €
---
---