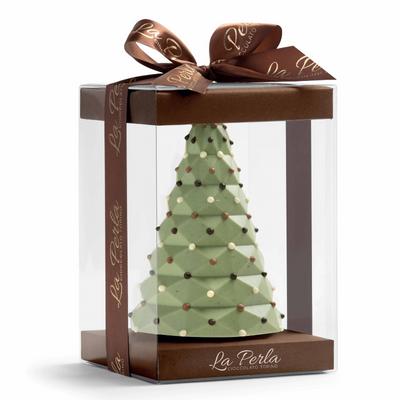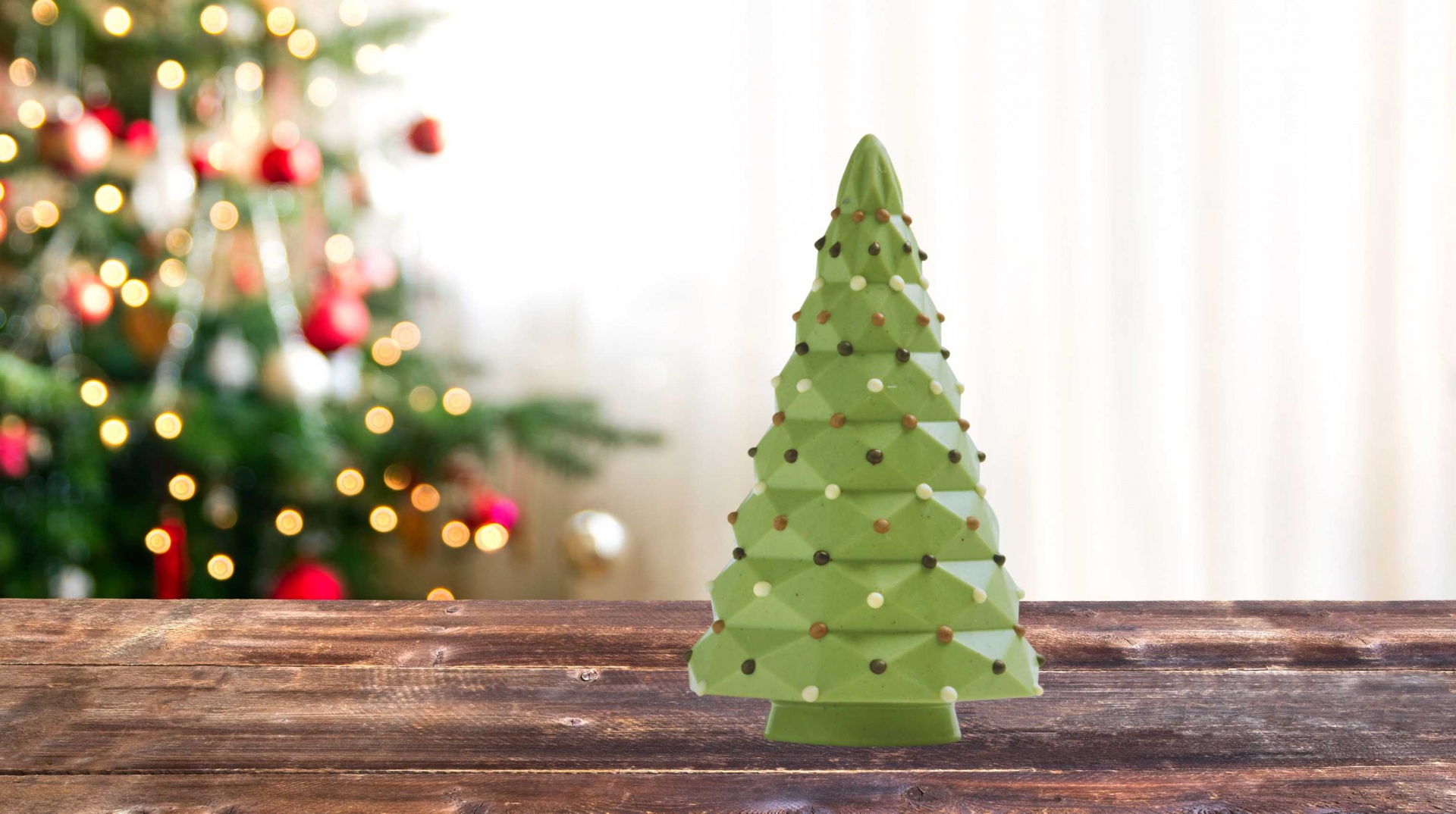 White Chocolate Christmas Tree with Pistachios - La Perla Torino
Categories: New Products
Surprise your loved ones with this White Chocolate Christmas Tree with Pistachios.
This Christmas bring to your table unique Italian delicacies like this Christmas chocolate tree decoration, hand decorated by Italian Chocolatiers in Turin. It's the little things like this that can make a moment memorable. 
Instead of gifting the usual chocolate boxes, gift a unique food gift like this one made with artisan Italian chocolate - smooth and decadent white chocolate beautifully paired with salted pistachios, all finished with three-flavour chocolate decorations.
In collaboration with La Perla Torino we are bringing to you the best artisan chocolate from the chocolate capital of Italy, Turin.
Did you know that Turin is famous for chocolate making since 1500? It's the city of Bicerin (the traditional hot drink made with espresso, milk and chocolate served in a tall glass), the gianduja cream (a spreadable chocolate cream made with hazelnuts PGI from Piemonte), and the iconic gianduiotto (the ingot shaped chocolate hazelnut praline famous all around the world).
This White Chocolate Christmas Tree has no gluten, making it the ideal chocolate gift in Ireland for anyone with an intolerance to gluten.
Ready to bring the magic of Italian Christmas to your table? 
Pick a few Christmas Chocolate Trees for you and your loves ones.
Limited Supply
Ingredients:
Zucchero, Burro di Cacao, Latte in Polvere, Pistacchi (10,5%), Siero di Latte in Polvere, Emulsionante: Lecitina di Soia, Fior di Sale (0,4%), Colorante naturale: Clorofillina E141, Aroma naturale di Vaniglia. Decorazione a base di Cioccolato Fondente (Pasta di Cacao, Zucchero, Burro di Cacao, Emulsionante: Lecitina di Soia, Aroma Naturale di Vaniglia. Cacao: 60% min.), Decorazione a base di Cioccolato Bianco (Zucchero, Burro di Cacao, Latte in Polvere, Siero di Latte in Polvere. Emulsionante: Lecitina di Soia. Aroma Naturale di Vaniglia), Decorazione a base di Cioccolato Finissimo al Latte (Zucchero, Burro di Cacao, Latte in Polvere (25%), Pasta di cacao, Emulsionante: Lecitina di Soia. Aro
Packaging:
250 gr
Nutrition declararion:
No gluten
Comments and reviews for White Chocolate Christmas Tree with Pistachios - La Perla Torino
Be the first to write a review
Browse delicious artisan foods
---
FREE SHIPPING for orders over 50 €
---
---