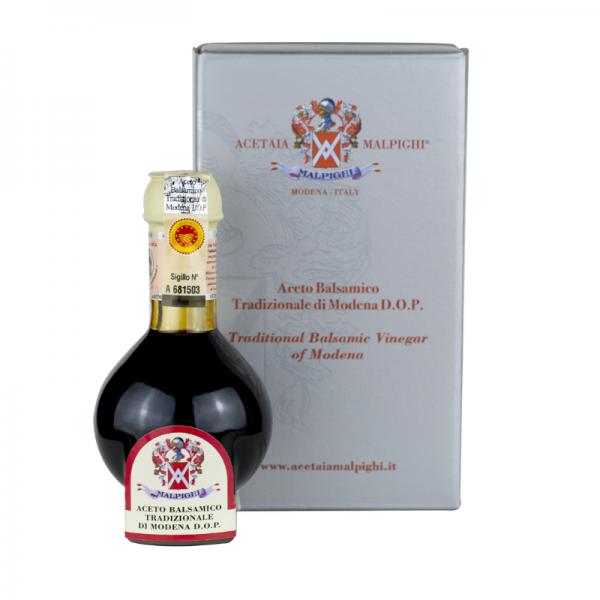 12 Yrs Old Traditional Balsamic Vinegar of Modena
Categories: Balsamic Vinegars
The Traditional Balsamic Vinegar of Modena DOP is aged in wooden barrels for twelve years. Obtained from the juice of the Lambrusco, Trebbiano Modenese, Trebbiano di Spagna and Ancellotta grapes. The colour is deep brown, the taste is intense - sour and with hints of wood grains; the fragrance is harmonic, spiced and persistent with flavours of tobacco and wood resin.
How to use:
Suitable to use on all types of food; especially in salad dressing, on omelettes, cheese, desserts, ice cream and fresh fruits.
It is delicious on fish and crustacea, with fresh or cooked vegetables and on boiled or roasted meats including game.
Balsamic vinegar of Modena POD
Ingredients:
Cooked grape must.
Contains SULPHYTES
Packaging:
Glass Bottle
Nutrition declararion:
Typical values per 100ml
Energy 1189 KJ/284 Kcal
Fat <0,1g of which saturates <0,01g
Carbohydrate 71g of which sugars 64g
Protein 0,31g
Salt 0,0029g
Volume:
100ml
Packed by: Consorzio Tutela A.B.T.M., Viale Virgilio 55, 41123 Modena Italy
Comments and reviews for 12 Yrs Old Traditional Balsamic Vinegar of Modena
Be the first to write a review
Browse delicious artisan foods
---
FREE SHIPPING for orders over 50 €
---
---